About Us
Local 479 is a charter of the International Association of Fire Fighters, and represents more than 600 uniformed personnel of the Tucson Fire Department as well as the uniformed personnel of the South Tucson Fire Department and the Tucson Airport Authority Fire Department. More than 98 percent of Tucson Fire Fighters belong to the TFFA.

Tucson Fire Department is the second largest municipal fire department in Arizona, and operates 22 fire stations. Currently, TFD has 23 engine companies, 7 ladder companies, and 17 paramedic companies in service. It also boasts specialized heavy rescue, hazardous materials, mass casualty and mobile command center equipment, as well as a 158 acre, state-of-the-art public safety training academy.

TFFA is highly visible in the community, and has a long history of involvement with charitable causes such as cancer research, child injury prevention, and burn treatment. We are key supporters of the Muscular Dystrophy Association, raising money through community events, Fill-The-Boot campaigns, and ticket sales to semiannual charity concerts. MDA's national corporate headquarters is located in Tucson.

Each year, we host numerous Tucson Fire Fighters Fundraisers, including Shoots and Ladders, SADFF Golf Tournament, Fire Fighter Ball, and Chili Cookoff. These events raise more than $60,000 for our Adopt-A-Family program, which helps well over a thousand Southern Arizona families during the holidays with food, clothing, shelter and Christmas presents.
Tucson Fire Fighters Memorial
---
Tucson Fallen Firefighters Memorial
The Memorial is located outside the main entrance to Fire Central in downtown Tucson, featuring a life-sized bronze statue of a firefighter, created by local artist and former Tucson firefighter Paul "Oly" Olesniewicz. The statue gazes across the site looking at the granite wall, while holding his helmet over his heart in honor of those who have fallen.
The granite wall stands at the far end of the monument and is engraved with the names of those who died in the line of duty in service to Tucson. In front of the wall stands a second bronze statue of a firefighter turnouts, symbolizing the uniform in which they died. The walk-way surrounding the monument is paved with personalized commemorative bricks purchased by members of the community.
The memorial is located in front of Tucson Fire Station #1
300 S Fire Central Pl
Tucson, AZ 85701
The memorial was built through public donations and the sale of commemorative brick pavers.
If you would like to purchase a brick paver please click here. Each brick can be engraved with names, logos and dedications.
The funds raised will be used for the maintenance and further enhancement of the memorial site.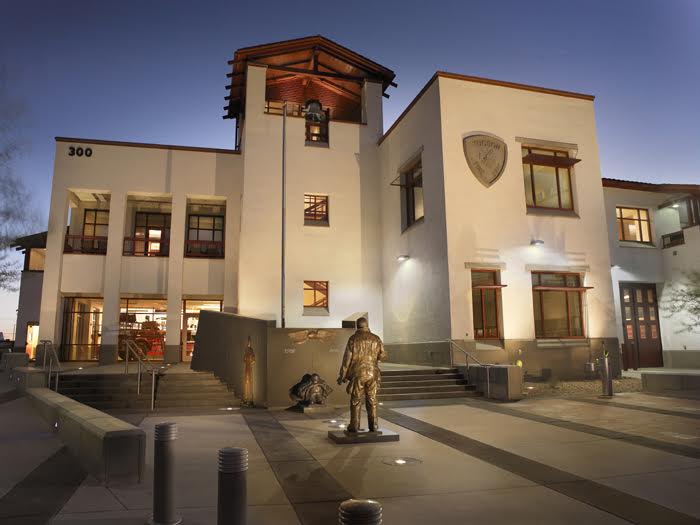 ---
---
Page Last Updated: Feb 25, 2017 (11:03:00)